Name: August Hart
Nickname/Alias: August
Age: 22
Birthdate: November 16th, 1981
Gender: Male
Orientation: N/A
Race: (Human/Shinigami/Shinigami Spawn): German Human
Height: 6'4"
Description: Wears a black navy uniform with two phoenixes facing eachother on the chest part of the jacket. Has slick back black hair and four scars along his face. On his left side he has a sword. Pale skin, shinigami eyes that appear pale blue to normal people., and pale lips. Black gloves and black boots.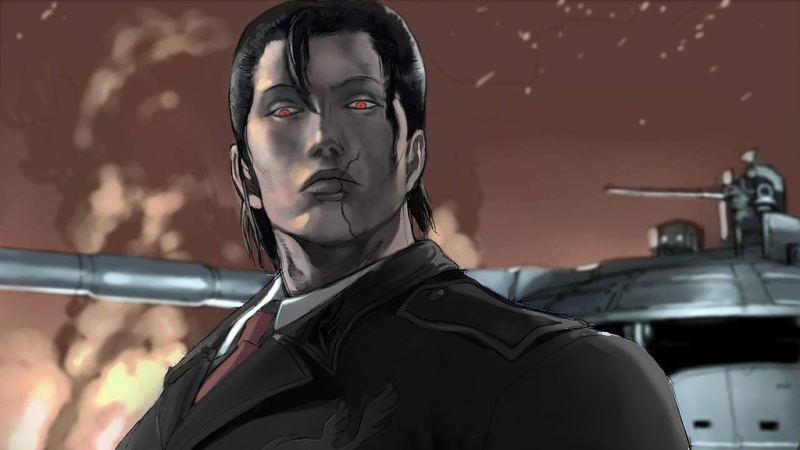 Occupation: N/A
Skills: Blade Mastery, Sniper skills, gunslinger skills, Smooth Talker
Inventory: Cellphone, Codec radio
Items acquired by special means: Death Note, Shinigami Eyes
Weapons (If none type N/A): August's sword, Sniper Rifle, and similar weapons to Blair
Fighting Style: CQC and Fancy
Personality: Quiet to everyone but Minaru, he is an ominous and scary figure to run into. He doesnt hold any mercy and still holds his iron fist techniques.
Special Job/Hobby: ?
August's family was originally drafted into the German army in World War Two. He left Germany when he was 16 and transfered into the US Navy in order to fight what remained of Naziism in the world, and was surprised to find Anti-Semitic movements in America as well. He once fought against twenty such Nazis at once and managed to walk away. He had then found a black note book on the deck of his ship. He decided to test it's power and, it worked. He then met Minaru, whom became the love of his life and had dropped her off at school. He was contacted by a mysterious man through Text and is currently in the L.A. District.